The function of rattan tables and chairs
Views:11 Author:Site Editor Publish Time: 2019-06-26 Origin:Site
The function of rattan tables and chairs
People's life changes with the times, rattan outdoor furniture is constantly appearing in the market. It can be said that rattan outdoor furniture is the trend of future life. In developed countries, rattan outdoor furniture is widely used, whether for outdoor or indoor, it is very suitable, because this material is environmentally friendly, and has a natural feeling. Placing such a cane table and chair in the courtyard, whether it is for relaxation, chatting or reading, will make your little courtyard full of cool and comfortable feeling.
If you have enough mind, put some potted plants beside the rattan tables and chairs, plus the morning sunshine, it will spread the natural feeling.
The rattan tables and chairs are integrated with the natural style of the courtyard. Especially on summer nights, relaxing and cooling in such a pavilion seems to instantly reduce the temperature of the space, bring a quiet and leisure atmosphere to people, and create a cooling effect for indoor or outdoor environment. The sofa can be used for a long time, placed in the living room, multi-functional combination of rattan sofa material: aluminum alloy skeleton, PVC rattan woven, tea table with glass, chair with cushion cushion, this rattan sofa is fully hand-woven, can move at any time, more flexible, put out the desired effect.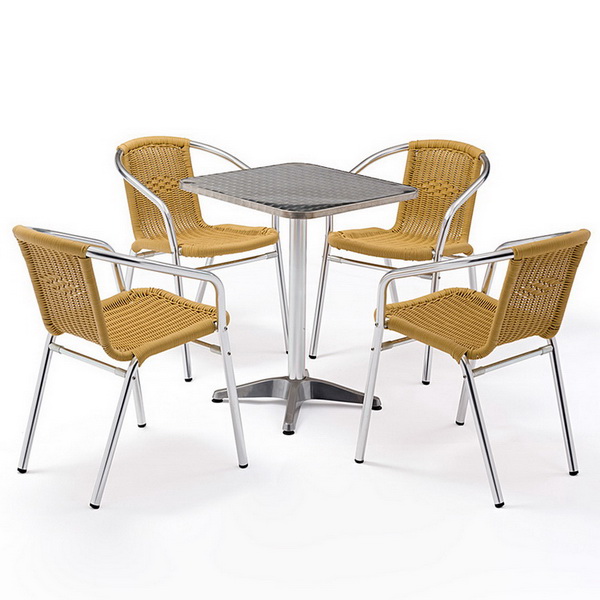 rattan table and chairs
outdoor table and chair set
small patio table and chairs
wicker table and chairs
rattan garden table and chairs
patio table and chairs sale
patio furniture table and chairs
cheap patio table and chairs
garden furniture table and chairs
rattan table and 4 chairs