Rope Furniture Aluminum Sofa Bright Spot in Exhibition
Views:0 Author:Site Editor Publish Time: 2019-05-09 Origin:Site
Rope Furniture Aluminum Sofa Bright Spot in Exhibition
The 36th outdoor meeting was held in the National Convention and Exhibition Center. More than 1000 enterprises from dozens of countries and regions at home and abroad participated in the exhibition. The exhibition is divided into six exhibition areas, including indoor and outdoor furniture, office series and so on. It brings together the top enterprises and advanced products of today's household products. Among them, the outdoor furniture exhibition area which is popular in recent years has attracted people's attention. Many foreigners are particularly fond of introducing the traditional Chinese-style cast aluminium outdoor leisure furniture of Nadi Stock.
"The pattern has Chinese elements, and the material is cast aluminium, which is beautiful and atmospheric outdoors, durable and easy to damage." A customer from Dubai pointed to an outdoor furniture set of rope furniture aluminium sofas and said: This kind of aluminium sofa rope furniture is very popular in Dubai, and can be placed in large and clubhouse places.
Businessmen from Russia praised a small broken-flower rope furniture aluminum sofa. After asking the exhibitors about the price, they bought more than 100 sets on the spot. "We often come to China, and we like Chinese traditional elements such as dragon and phoenix, peony very much. They are exquisite and elegant."
The exhibitor from Suzhou, manager Qiu, who is in charge of marketing department of Suzhou Nadi Metal Products Co., Ltd., said that leisure outdoor furniture has been popular for many years in Europe and the United States and other countries, and has become a necessity for many middle-class families. It has become a way of life to hold friends'gatherings in gardens, clubs and weekends.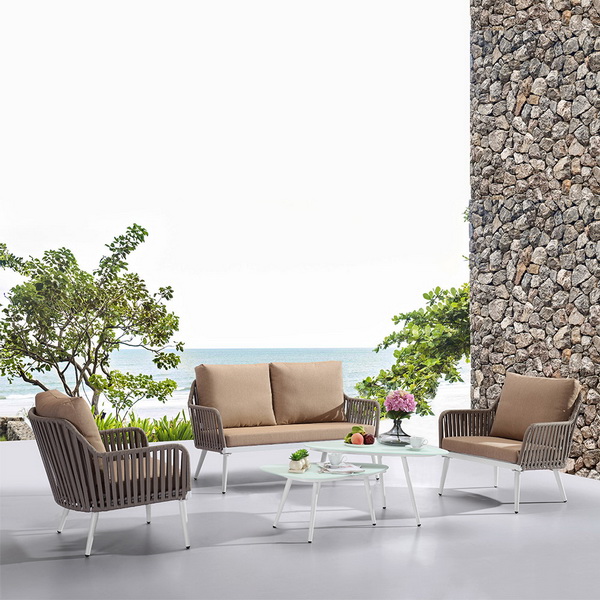 rope furniture
rope outdoor furniture
rope garden furniture
rope and chair
rope patio furniture
wegner rope chair
outdoor furniture rope
rope furniture collection
woven rope furniture
nylon rope chair