PE imitated rattan Patio chairs
Views:0 Author:Site Editor Publish Time: 2020-01-07 Origin:Site
Most of the rattan patio chairs we see in our daily life are made of PE imitated rattan. This kind of PE imitated rattan patio chairs is called imitated rattan chair for short. It is a furniture product made of imitated rattan as raw material, metal skeleton and artificial weaving. Rattan furniture not only has the traditional weaving mechanism characteristics of genuine rattan furniture, but also has the characteristics of good softness, strong color stability, long-term color retention; products are not moldy, easy to clean; can resist ultraviolet rays, not afraid of the sun and rain, light and solid.
In addition to the chair made of imitation rattan, there are various sofas, tables and even crafts that can be made of PE imitation rattan. Here is a brief introduction to this common material:
The main material of rattan furniture is PE rattan. The common colors are black, coffee, beige and white. According to the shape and effect, it can be divided into flat rattan, garden rattan, embossed rattan, simulation rattan, effect rattan, chameleon rattan, rattan tube and so on. Because of its strong toughness and aging resistance, it is suitable for all kinds of modern rattan furniture and rattan like craft products. It is not only beautiful and durable, sanitary and washable, but also high in emphasis and not easy to mildew, and free of harmful substances. It is one of the important materials for outdoor patio chairs.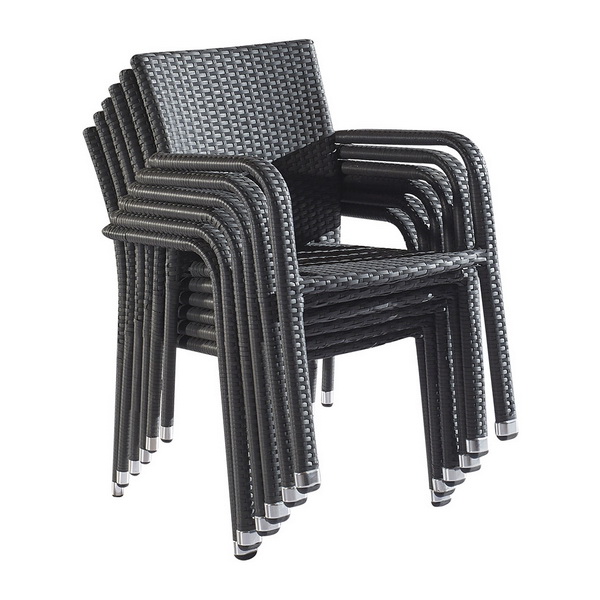 The outdoor patio chairs are made of PE rattan, which can effectively reduce the cost, and the products are also simple and versatile. In modern cities, this kind of furniture has been everywhere.