Outdoor sofa made of natural rattan and imitation rattan
Views:0 Author:Site Editor Publish Time: 2019-06-22 Origin:Site
Outdoor sofa made of natural rattan and imitation rattan
There are many kinds of rattan, which can be divided into natural rattan and PE rattan. Natural rattan is a spiny palm climbing plant growing in tropical forests. Although there are many varieties of natural vines, they grow mainly in Indonesia, so they are also called natural Indonesian vines. The outdoor sofa made of rattan has been commonly used by people.
The outdoor sofa made of natural rattan generally does not cause allergies, so it is especially suitable for children. Natural vines always keep close to human body surface temperature, so they are cool and do not feel too cold. Natural vines absorb sweat easily and do not stick to the skin. Strong and durable, healthy and environmental protection, natural fresh, comfortable and practical features. Disadvantage: Natural rattan resources are limited, and the number of imported natural rattan has gradually decreased. The disadvantage of natural rattan furniture is that it is easy to crack and deform in the north, and the scarcity of raw materials and other issues make it more expensive. For example, the export of Indonesian rattan has been restricted, and the price will be higher and higher.
The outdoor sofa made of imitation rattan has the advantages of smooth surface, good flexibility, durability, waterproof, sunscreen, mildew, moth, hygiene, easy cleaning and so on. Furniture imitation rattan is relatively cheap, excellent wear resistance, good low-temperature impact resistance, self-lubrication, non-toxic, water resistance, chemical resistance, heat resistance is better than general PE, shortcomings: external surface hardness, rigidity, expansion coefficient is larger.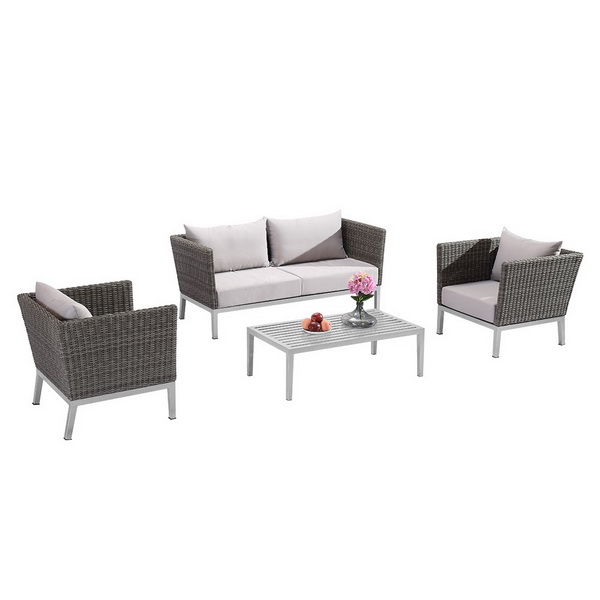 outdoor sofa
outdoor sofa set
outdoor sectional sofa
outdoor corner sofa
rattan outdoor sofa
outdoor sofa sale
outdoor sofa bed
3 seater outdoor sofa
cheap outdoor sofa
outdoor sofas uk