Outdoor rope chairs are selected for top-floor housing
Views:0 Author:Site Editor Publish Time: 2019-07-07 Origin:Site
Outdoor rope chairs are selected for top-floor housing
Compared with other floors, top-floor residential buildings are favored by many people because of their preferential price and wide vision. Although there are unavoidable problems in top-floor residential buildings such as high temperature in summer and obvious hidden danger of water leakage in ceiling, as long as the principle of waterproof and sunscreen of outdoor furniture is used skillfully, the focus is on making up for the lack of top-floor environment. Full, the living comfort and cost-effective ratio of top-floor residential buildings will be greatly improved.
It is a good choice to make full use of the large area of the balcony on the top floor to create a personalized leisure area. The use of outdoor rope chairs and umbrellas or outdoor tents is inevitably monotonous. Nowadays, outdoor furniture is prevalent in the decoration market. Skillfully weaving outdoor rope chairs or other outdoor furniture with rattan has become the fashion of the current top floor decoration with the help of landscapes, flowers and plants.
Making use of the advantages of outdoor rattan furniture, large area rattan furniture can effectively play the role of heat insulation and heat dissipation. For example, high-footed outdoor rope chairs have large basement area and good ventilation performance, which effectively protects the top floor from the impact of rainstorm and the corrosion of the hot sun, and plays the second role of partition.
Outdoor furniture is widely used in the top floor. Teak and aluminium rattan braid are the first choice in the choice of furniture materials. It is suggested that outdoor furniture products with large rattan braid area and high rattan density should be selected. Tieyi rattan braided furniture is easy to rust due to oxidation of iron metal in the air and has short service life.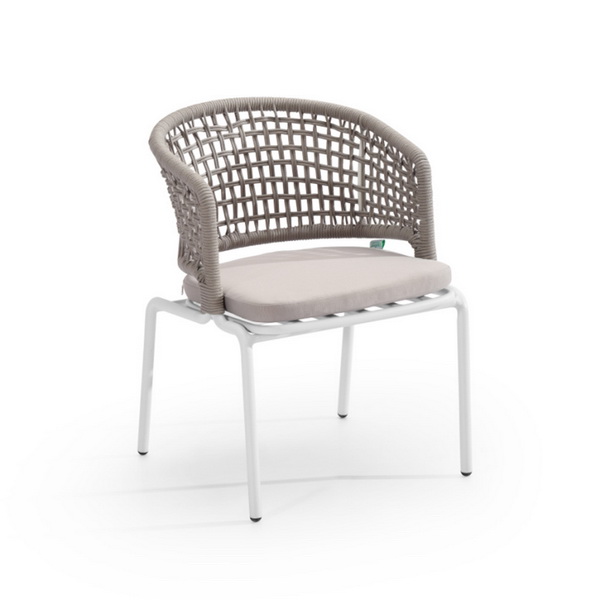 rope chair
outdoor rope chair
woven rope chair
european bistro chair
rope patio chair
rope outdoor dining chair
rope weave chair
rope garden chair
vintage rope chair
bouncy rope chair