Outdoor couch in outdoor furniture
Views:1 Author:Site Editor Publish Time: 2019-11-07 Origin:Site
Outdoor couch in outdoor furniture
Outdoor furniture is different from general furniture. It is more public and communicative. Outdoor furniture generally refers to the rest facilities in urban landscape facilities. It embodies people's life of leisure and relaxation. Outdoor furniture can be roughly divided into three categories.
1. Permanent fixed type: such as wooden pavilion, tent, solid wood table and chair, iron wood table and chair, aluminum frame table and chair, outdoor couch, etc. Generally, this kind of furniture should be made of high-quality wood with good corrosion resistance and heavy weight. It should be kept outdoors for a long time.
2. Movable type: such as Saito platform chair, Teslin chair, foldable wooden table chair, sun umbrella, outdoor couch, etc. Put it outdoors when using it, and put it in the room when not using it, so this kind of furniture is more comfortable and practical. It doesn't need to consider so many solid and antiseptic properties, and it can also add some cloth arts and other decorations according to personal hobbies.
3. Portable type: such as small dining table, dining chair and parasol. This kind of furniture is generally made of aluminum alloy or canvas. It's light and easy to carry. It's suitable for outdoor travel and fishing. It's better to bring some outdoor equipment, such as barbecue rack and tent, to add a lot of fun for outdoor travel.
Outdoor couch occupy an important position in outdoor furniture, but they are mainly fixed type, which are suitable for both sides of parks or shady forest paths.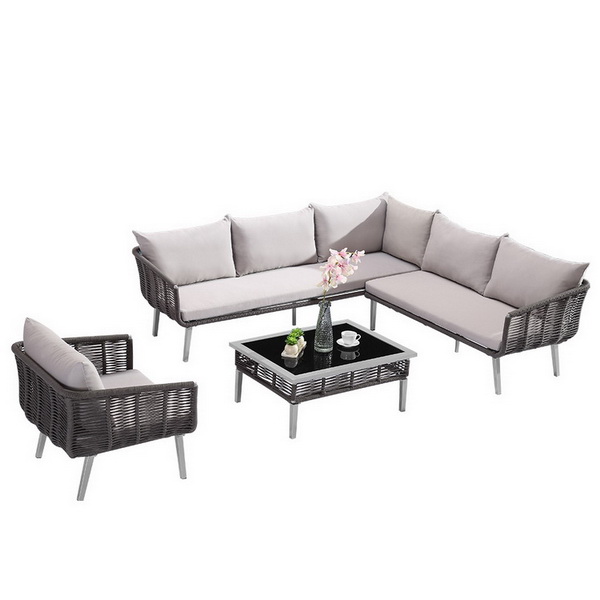 outdoor couch
rattan couch
l shaped outdoor couch
outdoor sectional couch
outdoor couch set
cheap outdoor couch
round outdoor couch
small outdoor couch
outdoor couch sale
garden couch