Material selection of outdoor table
Views:0 Author:Site Editor Publish Time: 2019-11-01 Origin:Site
Material selection of outdoor table
No matter the solid wood table or the rattan outdoor table, it is composed of four factors: material, structure, appearance form and function. Among them, function is the guide and the power to promote the development of furniture; structure is the backbone and the foundation to realize the function.
The solid wood table is represented by noble logs such as teak, which depends on the change of materials and the development of science and technology. For example, the traditional mortise and tenon connection and the hardware connection for modern panel furniture are all internal structures. A heavy teak table, a exotic sofa and fresh log wind give people a warm and reassuring feeling.
Rattan outdoor table has the characteristics of "publicity" and "communication" in a general sense. It mainly covers four kinds of products, including urban public out-door furniture, garden outdoor leisure furniture, outdoor furniture in commercial places, portable outdoor furniture, etc. Its main features are:
1: outdoor rattan furniture is UV resistant and not easy to rust. (the raw material is PE imitation rattan, fabric, antirust hardware screw, and the surface is sprayed with outdoor powder).
2: outdoor rattan furniture shall meet the requirements of Europe and America in terms of environmental protection, load bearing, safety clearance, etc.
Furniture is a kind of product with cultural connotation. It actually embodies the life customs of an era and a nation. Its evolution also embodies the development of social culture, human psychological behavior and cognition. Whether it is solid wood furniture or outdoor rattan furniture, in the decoration of the home is "different people have different ideas.".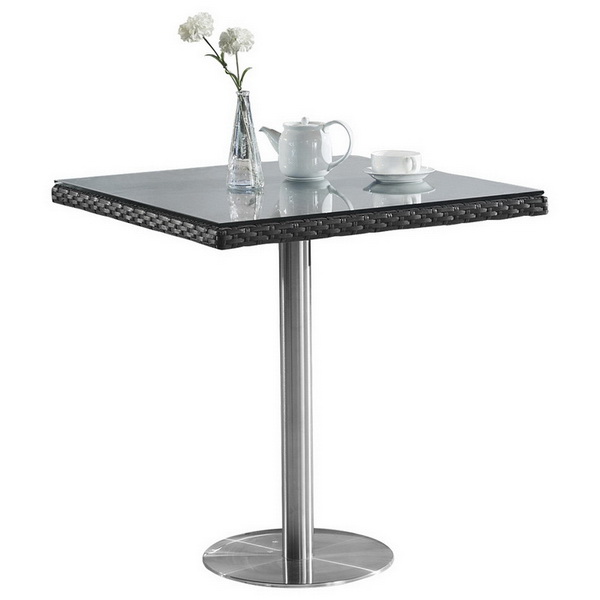 outdoor table
outdoor dining table
small outdoor table
plastic outdoor table
metal outdoor table
outdoor wicker table
cheap outdoor table
outdoor cafe table
black outdoor table
aluminum outdoor dining table