Maintenance methods of rattan table and chairs
Views:0 Author:Site Editor Publish Time: 2019-06-15 Origin:Site
Maintenance methods of rattan table and chairs
Outdoor rattan table and chairs are used by many families. Friends have bought three outdoor rattan table and chairs in their furniture. Each set is placed on the garden, balcony and terrace. Then they come to ask how to maintain them. I give the following suggestions, I hope you can also make a reference!
1. After sunshine exposure, it is not appropriate to wash with water immediately, otherwise it will cause direct aging damage to solid wood, vine-like, metal, mesh and other materials.
2. In high temperature sunshine weather, in case of heavy rain, we should try to use special shelter to cover, in order to avoid sudden temperature change and damage outdoor furniture;
3. Frequently cleaning the surface of outdoor furniture, especially some rattan furniture, dust easily penetrates into the crevices. Frequent cleaning is conducive to maintaining product cleanliness and prolonging service life. Do not use alkaline solution or hard brush when cleaning.
4. Some metal iron outdoor rattan table and chairs should be inspected to see if there is any knocking injury on the surface. If so, brush a little rust-proof paint on them.
5. When the outdoor sunumbrella is not used, it must be put away. Otherwise, the gale will easily cause serious damage.
6. Solid wood outdoor leisure furniture should be regularly cleaned, lightly polished with a brush or sandpaper, and then brushed with special outdoor protective oil, etc. after full penetration, it should be used again.
7. The outdoor furniture matching cushions and pillows are easy to absorb water. When it rains, they can also be stored in a special outdoor cushion box. When not in use for a long time, it should be cleaned and dried for storage.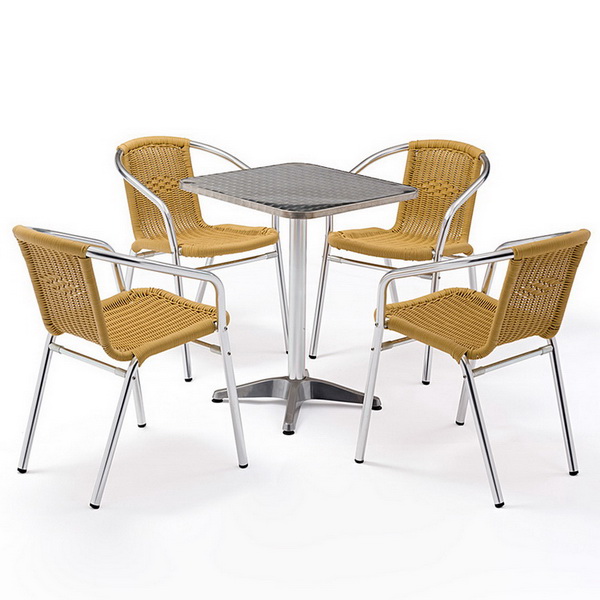 rattan table and chairs
outdoor table and chair set
small patio table and chairs
wicker table and chairs
rattan garden table and chairs
patio table and chairs sale
patio furniture table and chairs
cheap patio table and chairs
garden furniture table and chairs
rattan table and 4 chairs