Garden swing made of imitation rattan
Views:0 Author:Site Editor Publish Time: 2019-06-25 Origin:Site
Garden swing made of imitation rattan
Furniture made by imitation rattan is called imitation rattan furniture, which is made of imitation rattan as raw material, metal skeleton and knitted manually. Furniture imitation rattan not only has the traditional weaving mechanism characteristics of rattan furniture, but also has the characteristics of good softness, strong color stability, color can be maintained for a long time; products are not mildewed, easy to clean; can resist ultraviolet rays, not afraid of sunshine and rain, light and firm. Many people like outdoor furniture made by imitating rattan, such as rattan hanging basket, which is the most popular product nowadays.
Garden swing is not only made of vine, but also combined with aluminium bars and other materials. It has the following advantages:
1. PE plastic vine imitation: pure manual preparation, using light intensity test 3000h vine, not easy to aging, green environmental protection, anti-ultraviolet, never fade. Multiple colours are available for selection. Insect-resistant, anti-corrosion, ultraviolet ray, never fade, frame after spraying anti-corrosion and anti-rust treatment, durable. The product adopts ergonomics design principle, the lines are smooth, and the comfort of anyone sitting on it is very good.
2. Aluminum frame: Aluminum tube of 1.2mm or more is used. After 200 kg load-bearing test, the frame is light and reliable. The frame is sprayed with anti-corrosion and anti-rust treatment.
3. Cushion: sponge + waterproof cloth, pillow: cotton floss + waterproof cloth, zipper design, removable and washable. Optional color thickness
Do you like the vine-like garden swing?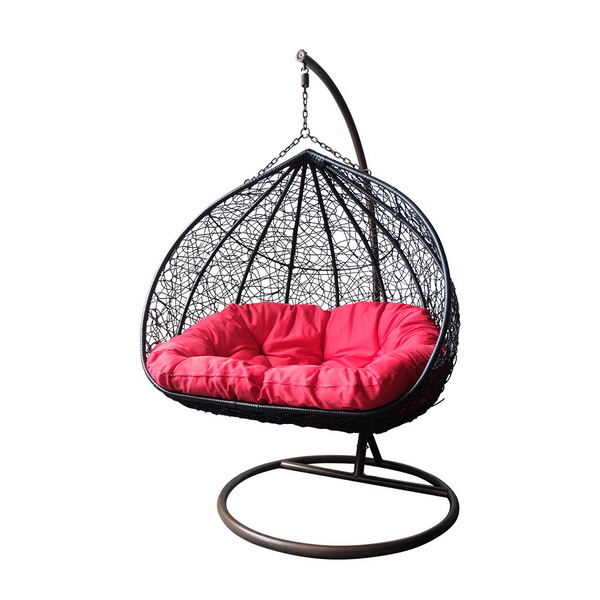 garden swing
3 seater garden swing
garden swing seats outdoor furniture
garden swings for sale
outdoor garden swing
cheap garden swing
garden swing design
garden swing online
metal garden swing seat
large garden swing