Garden Furniture Sofa Sets Made of Sunbrella Material
Views:0 Author:Site Editor Publish Time: 2019-04-03 Origin:Site
Garden Furniture Sofa Sets Made of Sunbrella Material
Sunbrella is a world-renowned outdoor weaving company with a history of 134 years and enjoys a high reputation in Europe and the United States. Sunbrella products have a thick appearance and texture of cotton, but will not fade or deteriorate, even in the face of the strongest sunshine without fear, can be used without maintenance for many years. As the first brand of high quality outdoor fabric in the world, Sunbrella sunshade fabric has excellent anti-ultraviolet properties and has been recognized as an effective anti-cancer product by skin cancer tissue. Sunbrella high-performance fabrics have high UV resistance and can effectively filter 99% of the ultraviolet light in the sun. In addition, the garden furniture sofa sets made of this material is also particularly durable.
For a long time, some manufacturers have chosen Sunbrella as the middle and high-end garden furniture sofa sets cushion cloth, which is used in cooperation with many five-star hotels, such as Hilton Yunnan Hotel, APEC Yanqihu Conference Center Hotel, Shenzhen Overseas Chinese City Intercontinental Hotel and many other places, all choose Sunbrella products. The two sides made more exchanges on in-depth cooperation and market promotion, hoping to better expand the South China market and recommend the best outdoor cloth for more customers.
Outdoor garden furniture sofa sets made of good materials can last longer.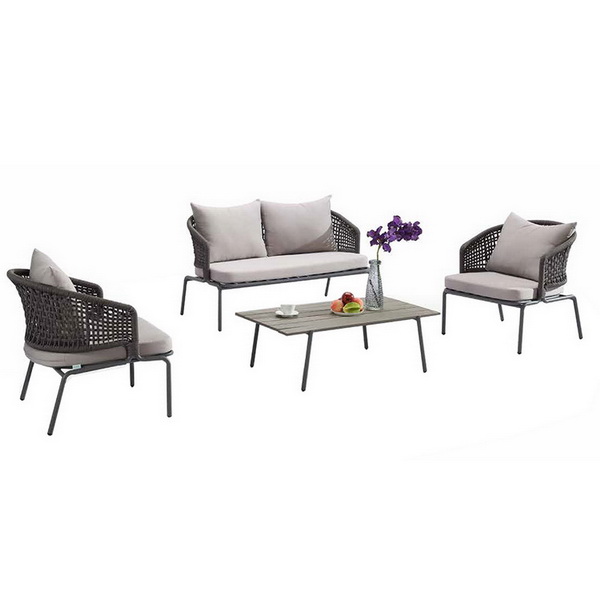 garden furniture sofa sets
garden sofa set sale
cheap garden sofa sets
patio furniture sofa set
rattan garden furniture sofa set
metal garden sofa set
outdoor wicker sofa set
aluminium sofa set
cane furniture sofa set
small garden sofa set