Choice of outdoor table and chairs suits
Views:0 Author:Site Editor Publish Time: 2019-04-09 Origin:Site
Choice of outdoor table and chairs suits
Courtyard or balcony three-piece set of tables and chairs, rattan outdoor furniture commercial to civilian trend is obvious
Owing to its mobility and comfort, rattan outdoor table and chairs suits have always occupied the mainstream position of outdoor furniture materials. They used to be seen in coffee shops, shopping malls and other outdoor public places rest areas. Domestic definitions are also generally commercial furniture. The purchasers mainly focus on enterprises, shops and real estate.
With the balcony becoming the standard of large and small apartments, the area occupied by balconies in some apartments is also larger. Many people move the old indoor furniture to the balcony to use, which not only affects the aesthetics, but also does not conform to the applicability. It is easy to make the whole balcony feel instantly become a "sundry area", "smoking area" and "clothes drying place", and it can not get up from the balcony to see the scenery and rest. Loose role, so the purchase of outdoor furniture has become a balcony soft-fitting consensus. Some people like to move outdoor table and chairs suits to the balcony, which has played a great aesthetic role.
Outdoor furniture in material selection, aluminum alloy itself light weight and can bear weight, hand-woven PE rattan is both breathable and elastic, different color styles can match different feelings. It is hoped that the domestic outdoor furniture industry can quickly form the furniture market outside the people's users as well as abroad, and promote the aesthetic appreciation and leisure of the whole people.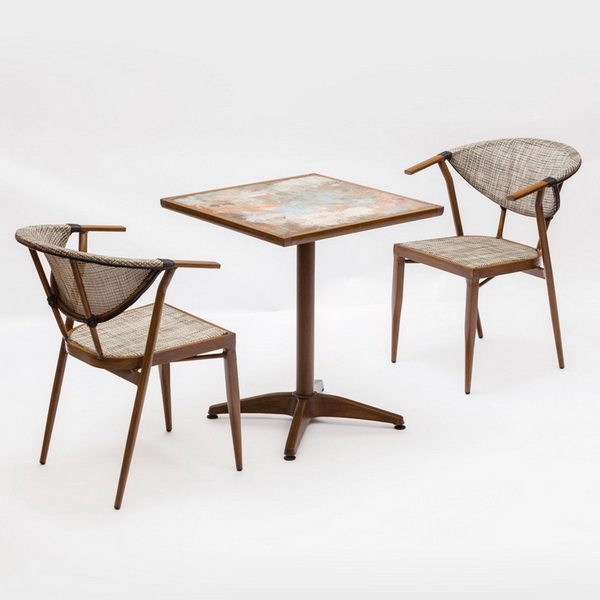 outdoor table and chairs
small outdoor table and chairs
cheap outdoor table and chairs
aluminium table and chairs
aluminium outdoor table and chairs
outside garden table and chairs
best patio table and chairs
metal bistro garden table and chairs
aluminium bistro table and chairs
bistro garden table and chair sets