Choice of cane weaving and wood quality for outdoor tables
Views:0 Author:Site Editor Publish Time: 2019-09-26 Origin:Site
Choice of cane weaving and wood quality for outdoor tables
Now many people are pursuing leisure life after work, which also leads to the growing demand for outdoor furniture, which enriches the out-door leisure life, can be close to nature, relax body and mind. Based on this demand, there are more and more outdoor leisure tables and chairs on the market. At present, there are rattan-woven tables and chairs, solid wood tables and chairs, casting tables and chairs, PS imitation wooden tables and chairs and aluminum alloy glass tables.
Outdoor table rattan braided material: rattan braided tables and chairs are made of metal skeleton and rattan braided tables and chairs. PE rat-tan is more suitable for outdoor, waterproof and anti-corrosion, but also has good air permeability. Other reclaimed vines and PVC vines are similar in shape to PE vines, but their performance will be poor. In addition, according to the different rattan table and chair skeleton materials, the price is different. Taking a table and four chairs as an example, the iron tube skeleton is cheaper than the aluminum alloy skeleton, while the stainless steel skeleton of the aluminum alloy skeleton is cheaper. When choosing outdoor furniture, we should pay more attention to de-tails and avoid being fooled by businessmen.
Outdoor Table Solid Wood Quality: Solid wooden tables and chairs with wood as raw materials have a simple and steady appearance. Because of the different quality of wood used, their prices vary greatly. Teak is the best wood, but the price is expensive. Because wood is easy to crack and deform in dry environment, it is not suitable to use solid wood tables and chairs outdoors in the north, and it is not easy to maintain.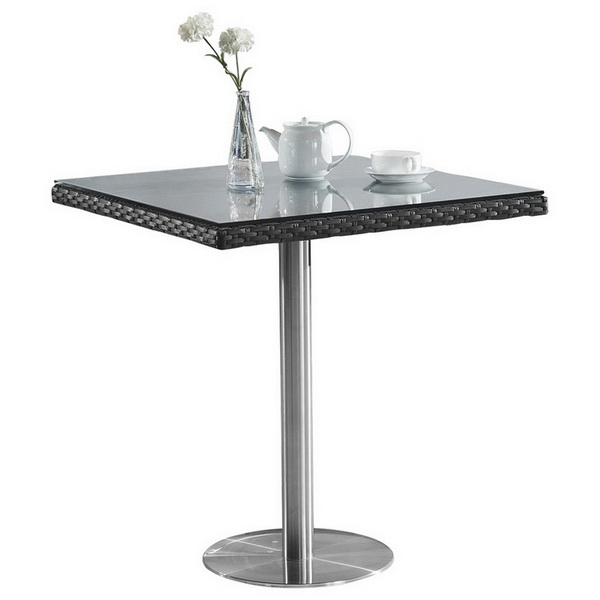 outdoor table
outdoor dining table
small outdoor table
plastic outdoor table
metal outdoor table
outdoor wicker table
cheap outdoor table
outdoor cafe table
black outdoor table
aluminum outdoor dining table