Chinese Table and Chair Suits Attracted Attention in the First China Home Crafts Expo
Views:0 Author:Site Editor Publish Time: 2019-04-04 Origin:Site
Chinese Table and Chair Suits Attracted Attention in the First China Home Crafts Expo
The opening of the first Anxi Home Craft Expo in China has attracted great attention from Jufeng Smart Home Pavilion, located in the craft city. An intelligent retractable indoor and outdoor universal dining table and chair suit attracts countless tourists to watch the photography and stop experience. Sitting on a chair made of solid wood and iron, you can adjust the angle between the back and the scaffold at will according to your personal preferences by tapping the remote control in your hand. A solid wooden table 2 meters long beside it can adjust its height arbitrarily under the function of a regulator. It is said that it can bear more than 600 kilograms.
"This wooden chair is really comfortable", "the combination of wood and iron, quite artistic", "can make the original hard wood and iron move, Jufeng home is really unique creativity"...
Everyone who has experienced this universal indoor and outdoor dining table and chair suit raises their thumbs and praises them.
As early as the founding of Jufeng, Huang Lianfu found that the more beautiful and creative indoor and outdoor furniture, the more favored customers, the higher profits. A lace, a pattern, or even a color on a handicraft can greatly enhance the value of the product. Therefore, increasing investment, hiring professional design talents with high salaries, and devoting themselves to the development of new products, Jufeng market opened up accordingly. Outdoor furniture also developed rapidly.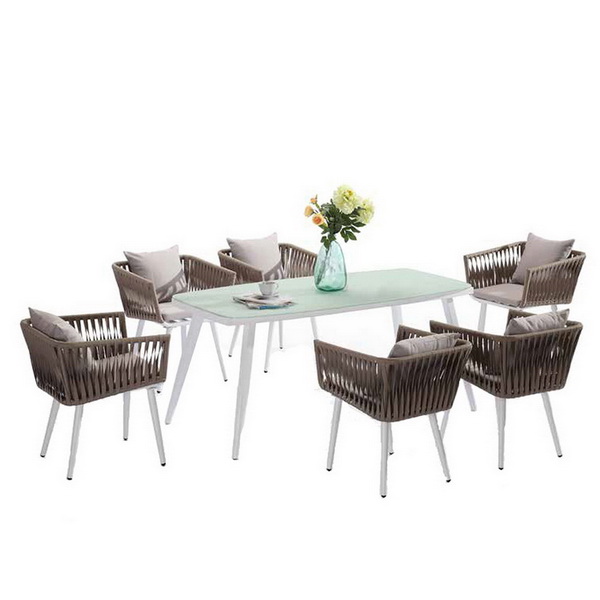 table and chairs
garden table and chairs
patio table and chairs
outside table and chairs
garden table and chairs set
cheap garden table and chairs
garden table and chairs sale
patio table and chairs set
outdoor patio table and chairs
cheap garden table and chairs set