Balcony furniture can choose rope chair
Views:0 Author:Site Editor Publish Time: 2019-04-06 Origin:Site
Balcony furniture can choose rope chair
Which kind of balcony furniture is better? For families with balconies, it is very important to select good balcony furniture. We need to select the types and materials of balcony furniture, and we need to consider many aspects. So what furniture is suitable for the balcony?
It is very important to have a place to sit on the balcony, so we should first choose a good chair. When choosing a chair, we should consider the material of the chair. Not only should we consider our own preferences, but also the rope chair? A very creative chair, very suitable for fashionable you.
When it comes to choosing the right balcony furniture chair, people often have the first impression of rattan chair, but you may not be creative enough in modern life, so it's time to try rope chair! Absolutely very creative furnishings, and suitable enough.
Of course, if you like the furniture with strong sense of design and bright color, you can choose the balcony furniture made of PE rattan, or the balcony furniture made of metal, Teslin and other materials. Among them, Teslin is a kind of furniture woven with PVC or PET core yarn. This kind of balcony furniture has the characteristics of high temperature resistance, ultraviolet resistance, aging resistance and rain proof. It can also be designed as a knitted rope chair (rope chair).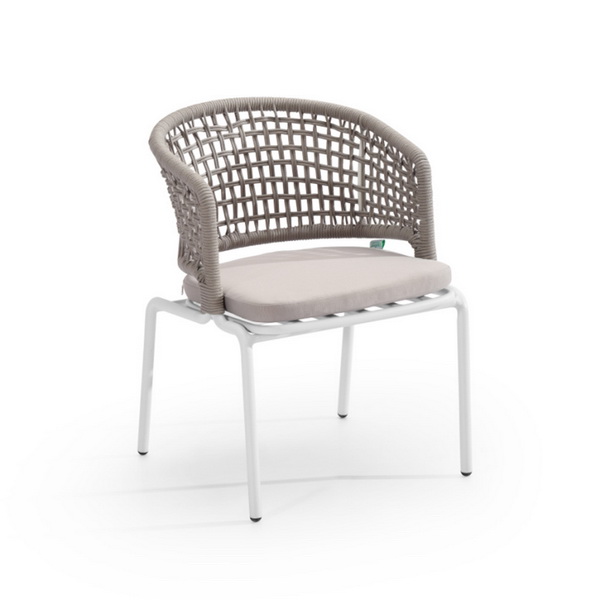 rope chair
outdoor rope chair
woven rope chair
european bistro chair
rope patio chair
rope outdoor dining chair
rope weave chair
rope garden chair
vintage rope chair
bouncy rope chair