Attention of cloth sofa for outdoor couch
Views:0 Author:Site Editor Publish Time: 2019-05-26 Origin:Site
Attention of cloth sofa for outdoor couch
Friends say that cloth sofas are very comfortable and it's a kind of enjoyment to sit down. I really want to use them as outdoor couch. And cloth outdoor couch is economical, practical, fashionable and beautiful, whether indoor or outdoor, it shows temperament.
Cloth art looks beautiful, but don't forget that if you use an outdoor couch and keep it outdoors for a long time, it may be patronized by dew and rain. The cloth art has a strong moisture absorption ability, but once it is wet by rain, it may be sunny and mildewed and can not be dried thoroughly. Therefore, if you insist on putting cloth furniture outdoors, it is better to build a pavilion which can well shelter the wind and rain.
Cloth sofa: mainly refers to the main material is cloth sofa, after artistic processing, to achieve a certain artistic effect, to meet people's living needs. This kind of sofa has good air permeability, anti-sensitivity and easy cleaning.
1. Strong hygroscopicity - Cotton fiber is a porous material with irregular internal molecular arrangement and a large number of hydrophilic structures in the molecule.
Warmth retention - cotton fiber is a bad conductor of heat, cotton fiber interior is full of immobile air, comfortable to wear - will not generate static electricity, good air permeability, anti-sensitive, easy to clean.
2. Weakness is easy to wrinkle - cotton fibers have poor elasticity. Cotton fiber has a strong water absorption, when it absorbs moisture, cotton fiber expands, resulting in shortened cotton yarn deformation.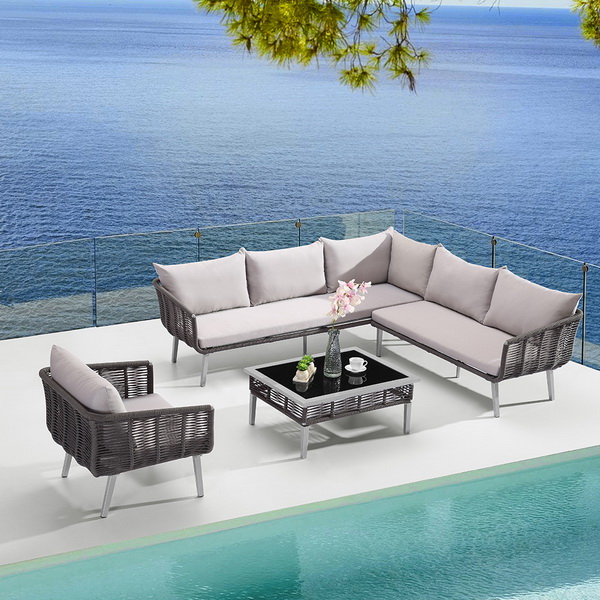 outdoor couch
rattan couch
l shaped outdoor couch
outdoor sectional couch
outdoor couch set
cheap outdoor couch
round outdoor couch
small outdoor couch
outdoor couch sale
garden couch