Advantages and disadvantages of solid wood garden furniture sofa sets
Views:1 Author:Site Editor Publish Time: 2019-05-08 Origin:Site
Advantages and disadvantages of solid wood garden furniture sofa sets
The choice of indoor and outdoor furniture is diversified, among which sofas are made of different materials, and solid wood sofa garden furniture sofa sets and cloth sofas are made of two different materials. The functions of sofas are different in different situations. It is impossible to directly judge which one is good. Only by choosing the right sofa according to its own conditions is good.
1. Solid wood sofa garden furniture sofa sets
Advantages: It is strong and durable, easy to clean, easy to handle and daily tidy up, And it can reveal rich cultural connotations, suitable for Chinese decoration or some public occasions. It has a long service life, usually about five times that of other panel furniture, and can be used for 15 to 20 years. Solid wood sofas garden furniture sofa sets are easy to handle and tidy up.
Disadvantage: Its shortcoming is that it is liable to be cold when it is cold, and the style is relatively old and not novel enough. And its finished products can not be disassembled, it will be difficult to carry.
2. Fabric sofa
Advantages: Its advantages are that the price is more economical and affordable, and it is more convenient to place indoors, which is popular with young people. It is also suitable for smaller houses and can be demolished and cleaned.
Disadvantage: Its surface fabric is easy to see dirty, although we can take it apart and clean, but there are some color differences. And it is easy to deform. Compared with the solid wood sofa garden furniture sofa sets, it has a shorter service life. After a long time of use, the edge of the cushion will collapse.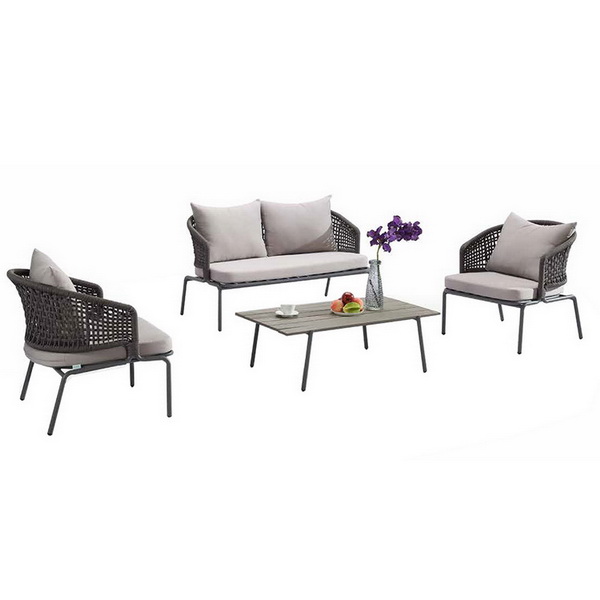 garden furniture sofa sets
garden sofa set sale
cheap garden sofa sets
patio furniture sofa set
rattan garden furniture sofa set
metal garden sofa set
outdoor wicker sofa set
aluminium sofa set
cane furniture sofa set
small garden sofa set